2011 ANNUAL WINNERS
PWR named Gold Coast Business of Year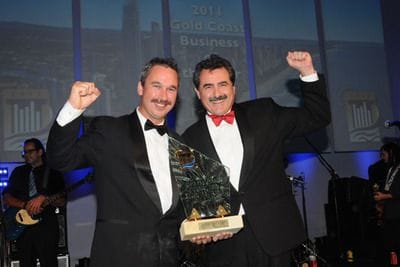 ORMEAU-headquartered PWR Performance Products has been named the Gold Coast's Business of the Year for 2011.
The automotive cooling specialist was awarded the honour at the Gold Coast Business Excellence Awards' gala function at Jupiters on Saturday night.
The award win adds further glory to what has been a bumper year for PWR, which was only set up by race car driver Paul Weel and his father Kees Weel in 1997.
This year the company has been involved with winning the world Formula One manufacturers title, the Dakar Rally and numerous other car races around the globe. Exports now represent more than 60 per cent of the company's sales and PWR's efforts have also been rewarded with a Queensland Export Award
Gold Coast Business Excellence Awards president Ian Cousins said PWR was a deserving winner of the award.
"As a specialist manufacturer of competition radiators, radiators and intercoolers, the PWR brand has fast-tracked its way to becoming a major brand in top tier motorsport,'' said Mr Cousins.
"The company, which has a new multi-million dollar research and manufacturing facility at Ormeau, is a world leader in automotive cooling and research."
MEET OUR WINNERS
ICON SOFTWARE SOLUTIONS

The Emerging Business Award - sponsored by Digga Australia

ICON Software Solutions commenced in 2008 and are already breaking into international markets with their innovative technology for local government systems. Their web-based software provides solutions such as online planning, electronic lodgement, corporate reporting and work project management software.

ICON assists over 25 councils to connect and communicate with their communities with a strong focus on customer service. The company attribute their success to a conscious decision to focus solely on their core market - local government.

TECHNIGRO

The Family Business Award - sponsored by Trade Queensland

Multi-award winner, Technigro, is a family owned and operated business run by three generations of the Bloor family. The company specialise in integrated vegetation management with a commitment to delivering the best results with low environmental and economic costs.

In 24 years the company have grown from a one-man business operating on the Gold Coast to a multimillion-dollar organisation servicing government and commercial customers between Northern NSW and the Sunshine Coast with an average growth of 20% per annum over the last 10 years.

COOLABAH TREE CAFES

The Retail, Wholesale and Distribution Award - sponsored by Suncorp Bank

Coolabah Tree Cafes are a national cafe operator specialising in supplying a good, healthy and hearty carvery-based food option in busy travel centre and service station locations. The Gold Coast-based franchisor is celebrating 10 years in operation this year. Now operating 11 company-owned cafes and five franchised outlets across four states, Coolabah provides good quality Australian-owned food as an alternative to the mass fast food chains.

PWR PERFORMANCE PRODUCTS

The Manufacturing and Construction Award - sponsored by AusIndustry

PWR is a world-class manufacturer of innovative lightweight aluminium, high performance radiators, oil coolers and intercoolers for Formula 1 cars, Volkswagen Touregs, NASCAR, Aston Martin and Porsche Cup cars.

The company exports all over the world from their Yatala factory and have gained competitive advantage through ongoing research and development.

Recently PWR built a world-first $2million wind tunnel to test thermal and aerodynamic efficiency of their products and have seen a 55% growth over the past three years with increased employment reflected in this trend.

BACK IN MOTION HEALTH GROUP

The Trades, Professions and Services Award - sponsored by msl Michael Sing Lawyers

Back In Motion Health Group continues to deliver first class physiotherapy and allied health care services to the Gold Coast community. The physiotherapy practice has fast become known as a physiotherapy provider of choice to Gold Coast residents with a strong focus on environmental awareness and citizenship contribution as important factors to the Group's management. Unprecedented and explosive growth of 84% pushes the Group into the top 0.5% of physiotherapy practices Australia wide.

GCOMM

The Information Technology and Multimedia Award - sponsored by Griffith University

GCOMM specialise in the development of dedicated private networks for connecting local and remote offices. They provide clients with secure and efficient interoffice communications; high performance data networks for corporate Internet requirements: a secure information centre with automatic offsite backups preventing loss of important records.

GCOMM have been listed in the Queensland Top 400 companies for the past 5 years as a reflection of consistent evolution in a rapidly-changing technological marketplace.

MAGIC MILLIONS

The Tourism, Hospitality and Events Award - sponsored by Gold Coast Airport

Magic Millions Sales began exporting thoroughbreds in 1986, with a handful of horses sold to New Zealand. Over the past 25 years thousands of horses have been sold all over the world giving the event the reputation as one of the "World's leading horse carnivals". International and domestic buyers now frequent the popular Magic Millions Sales on the Gold Coast, Perth and Adelaide to buy horses for racing in their respective countries, injecting millions of dollars into the Gold Coast economy.

BURLEIGH BREWING COMPANY

The Mayor's Innovation GC Award - sponsored by Gold Coast City Council's Business GC

Burleigh Brewing Company is a local brewery taking on the 'Beer Goliaths' with their innovative, flavourful beers based on authentic European traditions. Four of their eight unique beers have won World Championship gold medals, three have won silver and bronze against German and US beer manufacturers.
With a rapidly growing reputation for quality and excellence, Burleigh Brewing are meeting the growing consumer demand for new flavours with a connection to the local region, meanwhile continuing their innovation.

REYNOLDS SOIL TECHNOLOGIES

The Environmental Management Award - sponsored by Gold Coast City Council's Planning, Environment and Transport Directorate

Reynolds Soil Technologies provide comprehensive, environmentally friendly dust, earth and water solutions to the global mining, construction, civil and agricultural industries.

Acknowledged within the industries it operates as an expert in the field, RST is committed to continually improving products and practices focusing on the protection and improvement of the environment.

3DME

Bob Scott Encouragement Award

3Dme started as a spin off from its parent company V2i in 2006.

3Dme uses high definition 3 D visualisation and multimedia techniques to simulate the human body and its physiology as well as being an educational tool for national health strategies.
Their vision is simply to use their scientific and artistic skills along with the reach of the internet and digital technology, to assist everyone from primary school students through to university undergraduates, academics and medical specialists, to improve their understanding of health and medical topics.

GOLD COAST SUNS

Mayor's Corporate Social Responsibility Award 2011

One of the Gold Coast Suns' five key values is 'community', which the club continues to support through committed relationships and sustainable activity programs to engage and benefit the community now and well into the future.
Showing constant commitment to corporate social responsibility on the Gold Coast over the last two years, the Gold Coast Suns contributed a phenomenal 5,000 hours to the community in 2011 alone by raising awareness and much-needed funds for a number of charities.