2012 ANNUAL WINNERS
Technigro weeds out rivals to claim honours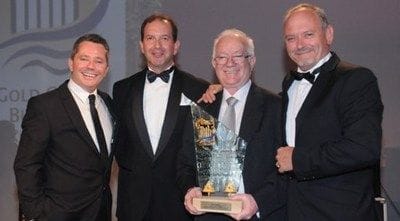 Fast-growing Gold Coast vegetation manager Technigro has been named as the Gold Coast's 2012 Business of the Year.
The Nerang-based Technigro was named as the major annual winner of the Gold Coast Business Excellence Awards at a gala function at Jupiters Hotel and Casino on Saturday night.
Technigro joins a rare group of high profile Gold Coast businesses such as Superior Marinas, Riviera, PWR and Digga as a winner of the city's most prestigious business honour.
Gold Coast Business Excellence Awards president Ian Cousins said Technigro was a deserving winner of the Business of the Year title as well as being the annual winner of the Family Business Award.
"Technigro is celebrating its 25th anniversary and it is now regarded as Australia's leading urban vegetation manager,'' said Mr Cousins
"It's grown from a one-man operation, to almost 100, including three generations of the Bloor family."
Mr Cousins said Technigro was planning to expand throughout Australia and was investigating ways it could further sell its expertise internationally.
Technigro has been now working with the National Parks Board in Singapore for the past eight months and is hoping to extend this contract for a further two months,'' said Mr Cousins.
ONE GLOBAL LOGISTICS
Emerging Business - Sponsored by Digga Australia.
One Global are dedicated to helping Gold Coast exporters and importers access global markets. They provide international freight forwarding, supply chain finance and marine cargo insurance, One Global offer a unique trade solution that is not available in the mainstream transport and logistics sector.
ZARRAFFA'S COFFEE
Retail, Wholesale and Distirbution - Sponsored by Suncorp Bank
Zarraffa's was established in 1996 by ex-pat American Kenton Campbell. He decided to 'buy himself a job' and now oversees more than 50 stores. It's the largest coffee franchise in Queensland and on the BRW top 20 list. More Zarraffa's Coffee outlets will be open by the end of the year.
PWR PERFORMANCE PRODUCTS
Manufacturing and Construction - Sponsored by AusIndustry
PWR Performance Products are leaders in hi tech automotive cooling solutions. They have divisions in the USA and UK and distributors on every continent. PWR is recognised globally as a designer and manufacturer and supplies equipment for Aston Martin, Pagani, Jaguar Williams and Porsche.
TECHNIGRO
Family Business of the Year - Sponsored by Regional Development Australia, Gold Coast
Technigro is celebrating its 25th anniversary as Australia's leading urban vegetation manager. It's grown from a one-man operation, to almost 100, including three generations of the Bloor family. Technigro has used the best of man and machine to greatly improve the way vegetation is managed.
VISION EYE INSTITUTE
Trades, Professions and Services - Sponsored by Michael Sing Lawyers.
vision The Vision Eye Institute pioneered laser eye surgery in Australia and remains at the forefront of recent advances. They have some of the most experienced eye surgeons in the world among their more than 60 staff. The Vision Eye Institute is internationally recognised as a global centre of excellence.
BLOOMTOOLS
Knowledge Management and IT - Sponsored by Griffith University.
bloomtools Bloomtools supplies online business products to small and medium enterprises. They specialise in web design, development and email marketing. Bloomtools have signed a joint venture with an international group that could see 200 franchises in Australia and overseas within three years.
TIMEZONE FUNTASIA
Tourism, Hospitality and Events - Sponsored by Gold Coast Airport
Timezone Timezone Funtasia in the heart of Surfers Paradise is the largest indoor family entertainment centre in Australia. Timezone covers an area of 5,000 square metres with leading interactive attractions and entertainment including Laser Skirmish, bumper cars and an 18 hole mini golf course.
V2i
Mayor's Innovation GC - Sponsored by Gold Coast City Council's Business Gold Coast
The V2i Group, which also includes 3Dme, has built a global reputation for making the complex easy to understand. They create 3D digital story-telling and content for master planning, urban design, OH&S, mining and health education. V2i has already received several national and international business and creative
RST DUST EARTH WATER SOLUTIONS
Environment and Sustainability - Sponsored by Gold Coast City Council's Planning, Environment and Transport Directorate
Reynolds Soil Technologies specialise in dust, erosion and sediment control. The multi award winning company services the mining, construction, civil and agricultural industries. RST have experienced huge growth here and overseas thanks to their innovation, technical know-how and service in a highly specialised field.
USHER & SON
Bob Scott Memorial Award
Usher & Son provide high quality Painting & Decorating, Solid Plastering and Signage services for residential, commercial & civil projects Australia wide. They have nine family members heavily involved in the business. Usher & Son foster a strong family ethic that drives the entire 190 + staff based in the Gold Coast and Brisbane.