2013 ANNUAL WINNERS
Marina builder proves Superior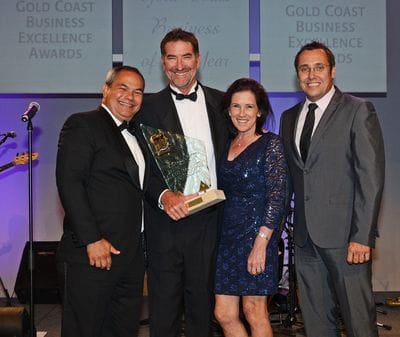 International marina and marine products maker Superior has been named the Gold Coasts Business of the Year for the second time.
Superior, which was previously known as Superior Jetties, was given the major honour at tonights Gold Coast Business Excellence Awards gala function at Jupiters Hotel and Casino.
Superior, which started its life manufacturing and installing pontoons for Gold Coast home owners, now designs and manufactures marine berthing systems and accessories ranging from a single cleat to multi-million dollar international super yacht marinas.
Headed up by husband and wife team John and Jackie Hogan, the company now exports its marina products to more than 10 different countries and has dealers operating in nine countries including Australia.
The companys clients now range from boat owners through to multinational companies and governments. The Arundel-headquartered company also claimed the annual honours in the manufacturing and construction category.
Meet our winners
The Vet Lounge

Emerging Business - Proudly sponsored by Virgin Australia

The Vet Lounge is an ultra-modern vet facility. It boasts piped music, leather lounges, sky light ceilings and luxury cat boarding themed rooms. They also use an interactive application iconsult to enhance client understanding and communication. The Vet Lounge team is dedicated to providing your pet with the best care.

Technigro

Family Business - Proudly sponsored by Regional Development Australia Gold Coast

Technigro is Australias leading urban vegetation management company. Its grown from a one man operation to a dedicated team of 100 including 3 generations of the Bloor family. Technigro is changing the way vegetation is managed by harnessing people, technology, knowledge and systems.

KT Cable Accessories

Retail, Wholesale & Distribution Award - Proudly sponsored by Suncorp Bank

KT Cable Accessories began operation from a small factory in 1994. Today they have 17 full-time employees providing Automotive, Electrical & Industrial Wiring Accessories. KT prides itself on supplying innovative products and quality service . They distribute throughout the Asia Pacific region.

Superior

Manufacturing & Construction Award - Proudly sponsored by AusIndustry

The Superior group includes Superior Jetties and Superior Plastech. They design, build and install marine flotation devices from a small pontoon , jet ski dock or boat lift to a large marina. They are also a major supplier to mining and industrial projects. Superiors mission is to support work, play and life.

Ray White Surfers Paradise

Trades, Professions & Services Award - Proudly sponsored by Michael Sing Lawyers

The Ray White Surfers Paradise Group commenced in December 1989 when brothers Andrew and Gregory Bell moved from Sydney to the Gold Coast. Since then they have grown from a one office operation to 15 with a team of 240 people. They continually strive for growth and success and have been the No. 1 office in the 1,000 strong Ray White Group for 20 years.

Pindara Private Hospital

Health & Wellbeing Award

Pindara Private Hospital is an acute care, medical/surgical and maternity facility.

Built in 1971, by Allan and Gwen Ramsey, Pindara has grown from a humble 50 beds and three operating theatres, to a bustling 260 bed, 14 theatre hospital. Its serviced by the Gold Coasts leading specialists and health care providers and is widely recognised for its high quality services.

OntheNet

Knowledge Management & IT Award - Proudly sponsored by Griffith University

OntheNet is the Gold Coasts largest broadband and hosting services provider. They deliver what customers want by building & managing the solutions in-house. Their current focus is working directly with NBN Co to deliver faster Internet locally.

Wyndham Vacation Resorts

Tourism, Hospitality & Events Award - Proudly sponsored by Gold Coast Airport

Wyndham Vacation Resorts Asia Pacific is the regions largest vacation ownership business. It includes 24 resorts across Australia, New Zealand and Fiji and more than 46,000 vacation owners. Wyndham recently announced a new property acquisition currently under construction in Melbournes CBD to be branded Wyndham on William.

Aqualuma Led Lighting

Mayors Innovation GC Award - Proudly Sponsored by City of Gold Coasts Economic Development Branch

Aqualuma is privately owned and was established on the Gold Coast in 2004. They manufacture LED underwater lighting and export to 52 countries. In 2012 Aqualuma introduced the worlds most efficient LED high bay light for commercial buildings, reducing carbon emissions and lowering power consumption by up to 75%

Nuflow Technologies

Environment & Sustainability Award - Proudly sponsored by City of Gold Coasts Planning, Environment and Transport Directorate

Nuflow are award winning pipe repair and maintenance specialists. They deal with damaged and blocked sewerage, stormwater, potable water, fire system and pressure pipe repairs. Their unique technology allows them to carry out work without expensive, disruptive excavation. Nu Flow have licencees across Australia and New Zealand.

Nimble

Bob Scott Encouragement Award

Nimble was founded in 2005 by Greg Ellis and Sean Teahan who were frustrated with the lack of consumer-friendly short-term borrowing options in Australia. Nimble is a totally new way to borrow money thats quick and 100% online. Their system gives you an instant decision so youll know whether youre approved straight away. Its the future of money, but you can have it right now.