2014 ANNUAL GALA AWARDS WINNERS
Burleigh Brewing Company named as
2014 Business of the Year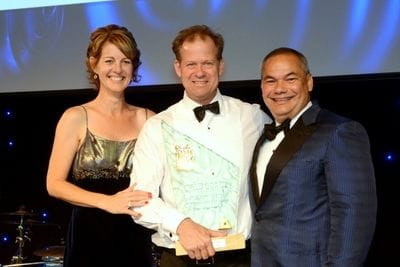 Renowned craft brewery Burleigh Brewing has been named as the Gold Coast Business of the Year in the Gold Coast Business Excellence Awards.
The business, which was set up by Brennan and Peta Fielding in 2006, was named the winner at a gala evening attended by nearly 700 people at Jupiters Hotel and Casino.
The company has created a recipe for success by developing world-class products, clever marketing, strong sales success and building a strong team.
Since selling their first beers in August 2007, Burleigh Brewing has established a strong niche in the South East Queensland beer market, which is dominated by the industrys two largest manufacturers.
Peta Fielding said their products were now found in many of the regions bars and restaurants as well through chains such as Dan Murphys, First Choice, BWS and Liquorland.
During the past three years the companys sales have almost tripled while the number of the companys employees has grown by more than 50 per cent.
Ms Fielding said all seven of the different beers they sold had won a world championship medal.
"Our industry is dominated by a duopoly in manufacturing and a duopoly in the retail chain, which makes for interesting competitive dynamics", said Ms Fielding.
"In five years I'd like to look back and know that we have participated successfully in that world while maintaining absolutely our business integrity, our genuine commitment to the quality of our product and to the quality of our relationships with our customers and our staff".
As well as being named the Gold Coast Business of the Year, Burleigh Brewing also took the annual award for being the best business in the Retail, Wholesale and Distribution category.
2014 Category Winners
Emerging Business Award

- sponsored by Virgin Australia

Evolve Skateboards

Evolve Skateboards is a leading manufacturer of top quality electric longboards, with distribution and support centres now servicing more than 30 countries worldwide. The Evolve brand is all about quality, performance and the endless carve.

Their mission is to make the highest performance electric longboards possible and to provide all the best skate accessories needed to maintain top shelf performance.

Family Business Award

- sponsored by Regional Development Australia Gold Coast

Turners Engineering

Turners Engineering is a leading supplier of services and products to the mining, earthmoving and construction industries throughout Australia and the Asia Pacific region.

The company supplies machinery, attachments and construction services, through a structure of four separate departments: plant hire; heavy manufacturing; light manufacturing; used machinery; and sales and procurement. Established in 1954. Turners Engineering is now one of Australias most diversified engineering companies.

Retail, Wholesale and Manufacturing Award

- sponsored by Suncorp Bank

Burleigh Brewing Company

Burleigh Brewing Company is a leading brewer of a range of craft beers. All beers in their extensive line-up have won world championship medals and they were named the 2013 Telstra Queensland Business of the Year.

The companys core vision is to define modern Australian craft brewing standards while inspiring freedom of choice and discovery.

Manufacturing and Construction Award

- sponsored by AusIndustry

Nucrush Group

The Nucrush Group comprises two main businesses, namely Nucrush, which produces and delivers quarry and natural stone products, and Nucon, which produces and delivers pre-mixed concrete. Both Nucrush and Nucon have been servicing the Gold Coast's construction needs for over 40 years.

The Nucrush Group remains 100% Gold Coast owned by the Neumann Family, with its head office based in Upper Coomera and operations sited across the entire coastal area.

Trades, Professions and Services Award

- sponsored by OntheNet

Usher & Son

Usher & Son provide professional painting, solid plastering, signage and access services to the construction industry, property maintenance and business community.

Offering a national service they pride themselves on the quality of their work. They are now commercializing products and procedures that they developed in-house.

Health and Wellbeing Award

Gwinganna Lifestyle Retreat

Gwinganna Lifestyle Retreat is one of the few Eco Tourism certified health retreats in Australia and offers an exclusive health and wellness destination for guests to re-focus on their health. Fully inclusive packages include stylish eco accommodation, diverse range of activities, organic cuisine and the largest spa in the Southern Hemisphere.

The retreat opened in 2006 and has spectacular views of the surrounding valley and ocean.

Knowledge Management and IT Award

- sponsored by Griffith University

GCOMM

GCOMM is a multi-award winning technology company that specialises in the delivery of enterprise-grade, managed IT services to medium businesses and corporations with multiple office locations. Over the years, the company has grown from a small 4-person operation to a mature business with over 40 employees that make up various departments including accounts, sales, marketing and engineering.

Tourism, Hospitality and Events Award

- sponsored by Gold Coast Airport

Timezone Surfers Paradise

Timezone Surfers Paradise is recognized as the largest indoor family entertainment centre in Australia and an industry leader in tourism and family entertainment. Located in the heart of Surfers Paradise in the Centro Shopping Centre on Cavill Mall, their centre covers an area of 5000 sqm and entertains more than 1.2 million visitors each year.

Mayor's Innovation GC Award

- sponsored by City of Gold Coast's Economic Development Branch

Opmantek

Opmantek is a leading supplier of Network Management Software with over 50,000 organisations using Opmantek software globally. Opmantek's Network Management Information System (NMIS) was the first network management system published in open source in 1998 and has grown to be one of the most robust and feature rich network management systems in the world.

Environment and Sustainability Award

- sponsored by City of Gold Coast's City Planning Branch

Quantum Power

Quantum Power is one of Australias leaders in anaerobic digestion systems and biogas-fuelled power station installations. They have designed and constructed more biogas-fuelled power stations in Australia than any other company.

They have successfully delivered biogas projects across a target range of industries, including: piggeries, layer chickens, abattoirs, rendering plants and dairy factories, resulting in the delivery of economic and environmental benefits.

Encouragement Award

Skin O2

SkinO2 is a Burleigh Heads-based cosmedical cosmetics company. It annually sells more than 100,000 of its 100 different cosmedical cosmetics products through 200 clinics and stores throughout Australia and overseas. Its products include clinically proven skincare products, makeup, cosmetics and professional salon treatments.