2015 ANNUAL GALA AWARDS WINNERS
Transit Australia Group named as
2015 Business of the Year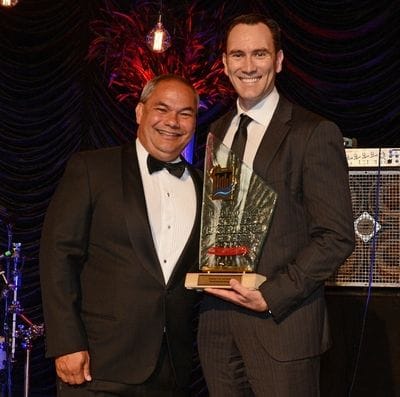 Robina-headquartered bus manufacturer Transit Australia Group has been named the Gold Coast's Business of the Year.
The company was named the winner of the major annual title before a Who's Who list of the business community at the Gold Coast Business Excellence Award gala dinner held at Jupiters Hotel and Casino on Saturday night.

Transit Australia Group chief executive Michael McGee said the company, through its subsidiary Bustech, designed, engineered and manufactured five different buses for the Australian public transport industry.
There are more than 1500 Bustech buses in service across the nation. Bustech recently launched Australia's first fully electric bus and has been selected as the lead design and manufacturing partner in a $176 million dollar electric bus project with the Malaysian Government.
"The aim of developing a fully electric bus was to realise the environmental benefit of zero carbon emissions, along with reduced maintenance requirements due to the low number of moving parts required compared to standard combustion or hybrid vehicles,'' said Mr McGee.
"Over the next few years electric buses will grow in popularity due to the increased battery performance, decreasing costs and governments around the world demanding solutions for inner city pollution."
Transit Australia Group, which also runs Surfside Buslines and Sunbus throughout Queensland, has been owned by the Calabro family since 1989 when they purchased the Greyhound bus company.
In 1989 the company had 56 buses but it grew with the purchases of the Tweed Bus Service in 1993, Gold Coast Citybus in 1995, Gold Coast Tourist Shuttle in 1998, and Coomera Bus Lines in 2001.
Transit Australia Group was also named as the winner of the annual title in the Mayor's Innovation GC section.
2015 Category Winners
Emerging Business Award

- sponsored by Flight Centre Business Travel

Gold Coast Organic Meats

Gold Coast Organic Meats is one of only a handful Certified organic butcher shops in Australia. Launched in 2011, the business now has three stores on the Gold Coast, serves buying groups in seven cities, has numerous wholesale and
corporate accounts throughout Australia and is now exporting to Hong Kong. Gold Coast Organic Meats is the first company in Australia to export Certified Organic Pork on a commercial level.

Family Business Award

- sponsored by Regional Development Australia Gold Coast

Coast 2 Coast Earthmoving

Coast 2 Coast Earthmoving is a family owned business that was started by Kevin Bycroft in 1967. He was soon joined by sons Robyn and Ross in 1969 and in 1998 the reigns were handed over to the third generation of the family. The company now has operations on the Gold Coast, Brisbane, Ipswich and the Sunshine Coast and they have a fleet of 400 earth-moving machines.

Retail, Wholesale and Manufacturing Award

- sponsored by Suncorp Bank

BLK

Initially launched as KooGa Australia on the Gold Coast in 1999, BLK is now an international sports apparel business. BLK is best known for its partnerships with professional sporting clubs throughout Australia and overseas. However
they also provide quality equipment and apparel for thousands of grassroots clubs, teams and athletes throughout the country.

Manufacturing and Construction Award

- sponsored by Department of Industry, Innovation and Science

Condev Construction

Condev Construction is one of the most prominent and prolific construction companies in South East Queensland and northern New South Wales. The mid-tier construction company undertakes projects in the $1m to $35m range.
Condev, which was founded in 2002 by Steve and Tracy Marais, now employs 115 people.

Trades, Professions and Services Award

- sponsored by OntheNet

Ray White Surfers Paradise

Brothers Andrew and Greg Bell started the Ray White Surfers Paradise in 1989 with one office. The group has now grown to 15 offices, encompassing 24 divisions with a team of 240 staff. The Ray White Surfers Paradise Group services all aspects of real estate sales including residential and commercial, property management, marine, strata management, new projects and international marketing.

Health and Wellbeing Award

- sponsored by Pindara Private Hospital

Medical Rescue

The Medical Rescue Group provides an array of services encompassing air ambulance services to the private insurance sector, rescue training services and remote clinical services. Since 2014, Medical Rescue has begun investing in research and development of new innovative aircraft loading systems and stretcher systems, using carbon composite materials.

Knowledge Management and IT Award

- sponsored by Griffith University

Opmantek

Opmantek is a world-leading software company, developing internationally recognised software products including Network Management Information Systems and Open-Audit software. Opmantek products are used by over 60,000
organisations globally. Every six minutes somewhere in the world a new organization implements an Opmantek product.

Tourism, Hospitality and Events Award

- sponsored by Gold Coast Airport

Timezone Surfers Paradise

Timezone Surfers Paradise is the largest indoor family entertainment centre in Australia. Located in the heart of Surfers Paradise, their centre covers an area of 5000sqm and entertains
more than 1.2 million visitors each year. In 2014, they won the International Association of Amusement Parks and Attractions' Award for best Family Entertainment Centre in the world an Australian first in this category.

Mayor's Innovation GC Award

- sponsored by City of Gold Coast's Economic Development Branch

Transit Australia Group

Transit Australia Group designs and builds buses for the Australian public transport industry as well as running Surfside Buslines. Employing 1400 people, Transit Australia Group have recently launched Australia's first fully electric bus and has also been selected as the manufacturing partner in a $176 million project with the Malaysian government.

Environment and Sustainability Award

- sponsored by City of Gold Coast's City Planning Branch

REGEN Australia

Regen Australia is an environmental management company that provides ecological restoration services. Regen's services include planning, consultancy, project management, monitoring and
reporting. Since Regen was established they have grown and planted more than 2 million native plants and have completed more than 1000 ecological restoration projects.

Encouragement Award

Family Fresh

Family Fresh produces 18 lines of fresh ready-to-eat snack products with no preservatives or artificial ingredients. In the past three years the company has secured supply contracts with Coles and Woolworths and has increased production dramatically. Having supplied Australian families for over 30 years, Family Fresh uses innovative production methods to retain the fresh natural flavours and nutrient quality of raw fruit.