Desmond Brooks
Desmond Brooks Architect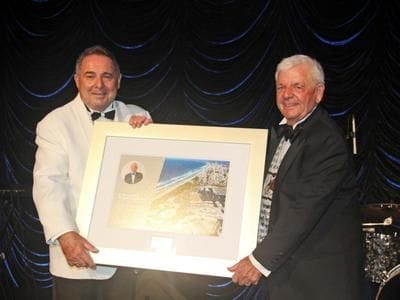 Renowned international architect Desmond Brooks has become the 11th person inducted into the Gold Coast Business Hall of Fame.

Mr Brooks and the company he founded were behind the designs of some of the Gold Coast's most amazing landmarks. They include Sheraton Marina Mirage, Palazzo Versace, Royal Pines Resort, Marriott Surfers Paradise Resort, Gold Coast International Hotel, The Wave, Soul, Ultra, Jewel, Verve, and Sierra Grand.

More than 640 Gold Coast business people were on hand at the Gold Coast Business Excellence Awards' gala function at The Star Gold Coast.

Born in Melbourne in 1931, Mr Brooks received his big break in Hollywood while embarking on an extended honeymoon with wife,Pauline, after finishing his architecture degree.

Mr Brooks and two friends won a contract to review movie studio 20th Century Fox's landholdings. That contract then rolled into another contract to design a masterplan for a part of Los Angeles that is now known as Century City.

This led to an opportunity to join an architecture firm that specialised in designing high-rise casinos.

Mr Brooks said that provided him with the chance to design three casinos on the Las Vegas strip including the Sahara.

"Most of the clients at this stage all wore long black overcoats, as did all 'Las Vegas developers' and all the payments were in cash,'' he said.

One client who did not wear an overcoat was business magnate Howard Hughes, who later became renowned for his reclusive behaviour. Mr Brooks designed The International in Las Vegas for Mr Hughes.

In 1961, he moved to Hawaii where he set up his own architecture firm and designed numerous tourist, commercial and housing projects.

In the early 1980s Queensland coal baron and industrialist Sir Leslie Thiess visited Hawaii and urged the architect to return to Australia to design the Sheraton Breakwater Casino in Townsville.

Mr Brooks agreed and set up shop on the Gold Coast. Within four months of his return to Australia in 1982 our hero's business had 40 employees.

In August 1989, Mr Brooks won an international competition to redesign the Expo 88 site in Brisbane. That site is now called South Bank.

He also teamed up with developer David Mariner to save Melbourne's historic Regent Theatre and built the adjacent Westin Hotel. He also reviewed the final plans for Melbourne's Crown Casino.

Mr Brooks' projects in other parts of Australia included Sheraton Mirage Port Douglas, Palm Cove, Lizard Island and Heron Island.

In 2008, Desmond sold his business to his employees with the intention of retiring. However, several years ago he started a new firm, called Desmond Brooks Architects.While he considers himself semi-retired, his business is working on projects in Indonesia, Western Australia and China. His team is also designing plans to revitalise a $4 billion, 140-hecture, 700-room resort on the slopes of Mount Fuji in Japan.

In summing up his career, Desmond says the secret of his success is to simply: "Just have fun. You have to want to come into work. If it's not fun, don't do it."