Dr Soheil Abedian AM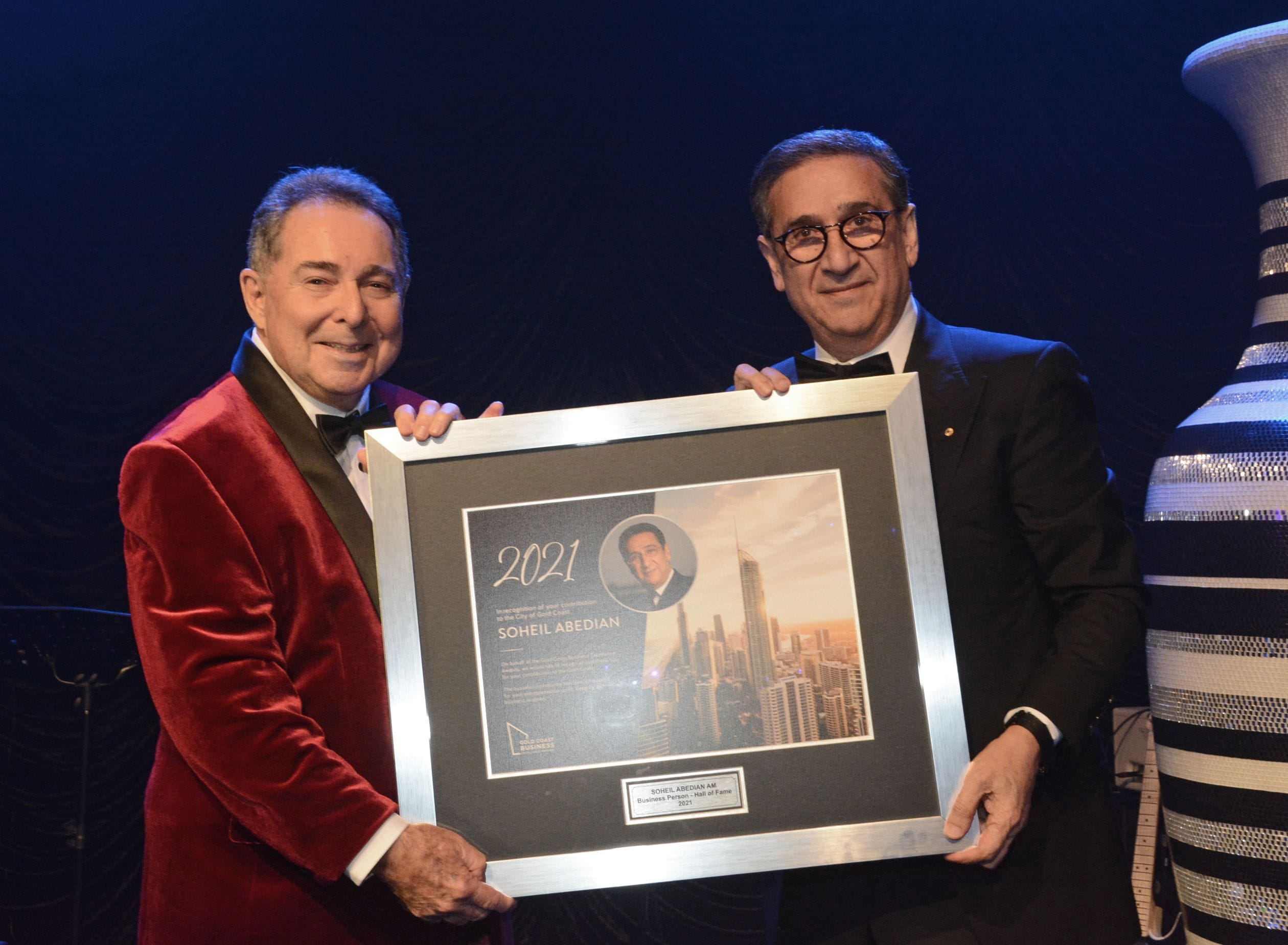 Renowned property identity and philanthropist Dr Soheil Abedian AM has been inducted into the Gold Coast's Business Hall of Fame.
Mr Abedian was presented with the honour at a black-tie dinner attended by 750 of the city's leading business and political figures including Premier Annastacia Palaszczuk and Mayor Tom Tate at The Star on Saturday night.
Mr Abedian was born in March 1949 in Khoramabad, Iran, to a middle-class family.
After finishing school in Tehran, Mr Abedian moved to Austria to study architecture at Graz University and got married. By the age of 21, Mr Abedian was working, studying at university and raising a child.
He says this period in his life really strengthened his character.
In 1979 Mr Abedian completed his Masters' degree and the following year travelled to Australia for the first time to visit his in-laws in Adelaide.
Borrowing a car, he embarked on a trip to discover Australia and while in Brisbane, it was recommended that he take a day trip to the Gold Coast.
Until then, he did not know the Gold Coast existed. As he drove across the Southport bridge, he looked up and counted 79 cranes in the skyline. He immediately knew that the Gold Coast was a place he could make a good living.
He immigrated to Australia in 1981 and set up home on the Gold Coast. He was told his name was difficult for Australians to pronounce and he should change his name to Sam or Steve. He did not.
He and his father-in-law teamed up to build a house at Donegal Crescent, Sorrento, but the project was poorly timed. The housing market on the Gold Coast collapsed shortly afterwards.
More disappointment came when the Royal Institute of Architects refused to recognise his qualifications in Australia. The institute said he could not call himself an architect in Australia but he was allowed to design for himself.
So, he built a modern home at Cabana Boulevard, Benowa. That was the beginning of an incredible career that would lead to the construction of 40,000 dwellings around the world.
In 1983 Mr Abedian registered the name Sunland Homes and he started building innovative homes throughout Benowa, Sorrento and Paradise Waters.
The homes brought him to Sanctuary Cove developer Mike Gore. Mr Gore asked Mr Abedian whether he would build all the waterfront villas, patio homes and individual houses at Sanctuary Cove and Mr Abedian agreed.
Next, Mr Abedian built his first high-rise apartment tower, Malibu, in Main Beach in 1987. The company then ventured into its first land subdivision, with a 700-lot project called Gaven Heights.
What followed was a series of high-rises and subdivisions throughout the Gold Coast and this was followed by a successful float on the Australian Stock Exchange in 1995. Carmel by the Sea was the listed company's first high-rise apartment tower.
Then came projects like Legends Hotel, Lumiere, Aria, Circle on Cavill and Avalon.
In 2000, Sunland Group opened the doors on the world's first fashion branded hotel, Palazzo Versace.
In 2005, the company completed the world's tallest residential apartment tower, Q1, which is now a landmark of the Gold Coast skyline.
The company expanded nationally and internationally. At one time Sunland Group had 3500 employees. The company owned childcare centres, had 2200 hotel rooms, shopping centres and owned companies specialising in construction, electrical services, cabinet making and concrete.
The company is now in the process of being delisted from the Australian Stock Exchange and all the capital will be returned to shareholders.
Mr Abedian says the company will continue as a private business.
However, it is not just in business where Mr Abedian has made his mark. His generosity over an exceptionally long period has been simply staggering.
In 2011 he was a driving force behind the establishment, design, funding and construction of the Abedian School of Architecture at Bond University.
During the same year Mr Abedian also created and funded the registered charity, Abedian Foundation, which has a focus on funding the education of future generations. So far, the foundation has provided scholarships to more than 100 students at Griffith University and Bond University.
Soheil also makes significant annual contributions to other charity organisations and events including the Mayoress' Charity Ball, the Ray White Charity Ball and the Gold Coast Community Fund.
For his efforts he was awarded a Certificate for Citizen of Humanity by the United Nations in 2005, awarded a Centenary Medal of Australia, was named QCF Philanthropist of the Year (Higher Education) 2018 and awarded the 'Keys to the City' by the Mayor of Gold Coast in 2019. Earlier this year he was named a Member of the Order of Australia in the Queen's Birthday Honours.
And, now, despite the Institute of Architecture's original rejection of his qualifications, he can call himself, not only a Doctor of Architecture, but also an adjunct Professor of Architecture at both Bond University and Griffith University.
These days Mr Abedian says he is retired. That means he is chairman of a London-based organisation that lobbies the United Nations for the progress of women around the world and he only has 31 weekly meetings in his to diary to mentor and help people and organisations.
Mr Abedian says Australia, and the Gold Coast in particular, have been incredibly good to him.