Frank Goldstein
Goldsteins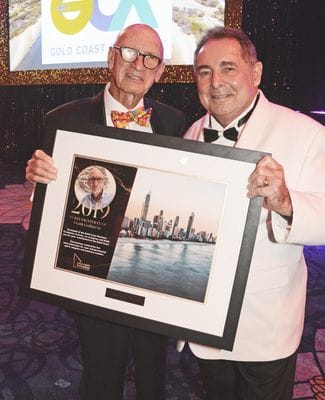 Prominent Gold Coast businessman Frank Goldstein has been inducted into the city's Business Hall of Fame.
Mr Goldstein, whose family owned business Goldsteins Bakery has 12 outlets on the Gold Coast and employs more than 100 people, is the 14th person to be inducted in the Hall of Fame, which is run by the Gold Coast Business Excellence Awards.
Past inductees include Sea World founder Keith Williams, Dreamworld founder John Longhurst, Billabong founder Gordon Merchant and bikini pioneer Paula Stafford.
Born in 1943, Mr Goldstein left school at the age of 14 to work full-time in his family's business, which was then named Continental Cakes. Mr Goldstein and his brother John took over the operation of the business in 1962 when their father died from as a result of complications from diabetes.
The brothers then decided to rebrand their business, which was based in Surfers Paradise, to Goldsteins Bakery.
In 1968 the company opened its second store in the Sundale shopping centre in Southport. At the time Sundale was one of the first major shopping centres built in Australia and critics suggested the rents were too high for the Goldsteins' business to survive. The store not only survived, but it also thrived.
As more shopping centres opened across the Gold Coast, the Goldsteins opened more and more stores.
The company now has 125 employees working across 12 Gold Coast outlets, all of them company owned.
Frank bought his brother John's share in the business in the early 2000s but freely admits John played a big role in growing the business.
Frank says the business has grown with the Gold Coast and the city has been good for the family. The family has also been good for the city.
Frank says the company attracts honest hardworking people because they treat staff well.
"A lot of our employees have worked for the company for 20 years or more,'' he said.
The Goldsteins have also been a major contributor to the community. Frank has been the long-term chairman of the Gold Coast Hebrew Congregation and he is also patron of the Gold Coast Show Society. His company was the first major sponsor of the Gold Coast Show and has been continuously been involved with the show since. Goldsteins was also one of the first companies to sponsor Gold Coast Indy.

The Goldsteins were also involved with the launch of the Gold Coast Air Sea Rescue, the forerunner to VMR Gold Coast, and the first Gold Coast Marathon through Rotary.
Frank is no longer in the business day-to-day, with his sons Joshua and Martin now taking the reins. But he still loves being involved.