James Frizelle
Frizelle's Automotive Group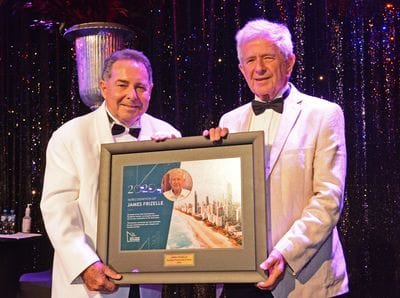 Renowned Gold Coast car dealer, property investor and philanthropist James Frizelle and 2020 Hall of Fame Inductee.
Mr Frizelle was born into a working-class family in Sydney on the 16th of January 1934. At that time Australia was battling through the Great Depression.
He left school at 14 and started a five-year mechanic's apprenticeship in a large Sydney Holden dealership, WT Coggins, Five Dock.
Mr Frizelle was first introduced to the Gold Coast as a teenager when he joined his mates for a series of camping trips. They would camp at Burleigh Heads and spent their time surfing.
At the age of 20, as soon as he finished his apprenticeship, our inductee started work as a mechanic with his uncle and soon after started working as a mechanic from his parents' home.
Mr Frizelle was then called up to National Service Training with 19th Battalion at Holdsworthy Army Barracks in 1955.
In 1956, at the age of 22, Mr Frizelle borrowed money from his father and uncle, to invest in his first car dealership, a small Chrysler dealership attached to a Shell Service Station in Cryodon, Sydney. After the introduction of the Chrysler Valliant to Australia in 1961, Mr Frizelle's motor dealership business grew significantly.
By 1975 the dealership had more to have more than 50 employees and Mr Frizelle took an opportunity to sell his business.
He started investing in property and this led to his permanent move to the Gold Coast.
Among his purchases included 10 acres of vacant land in Southport, which was later sold to a developer; a shop which sat on the site of the current Dolphin Arcade in Surfers Paradise; and three separate blocks in James St Burleigh Heads on which nine retail shops were built. He also owned the highly successful Tugun Fruit Market.
Mr Frizelle says he never intended to return to the car industry. He says he was happy just buying and selling properties until April Fool's Day 1985 when he couldn't help himself and bought back into the motor trade in a very small way with the purchase of Southport Mazda. The business only had eight staff and only needed to sell nine cars a month.
A year later Mr Frizelle heard that colourful Western Australian businessman Alan Bond was involved with bringing the Hyundai brand to Australia and he reached out to see if he could secure the Gold Coast dealership. Sure enough, Alan Bond's son John rang and accepted him as a dealer
Frizelle's Automotive Group then built up a name for caring for its customers. His reputation for customer care grew and the car companies and the truck companies started approaching him to become a dealer.
Over the next 32 years as the Gold Coast grew, James started collecting motor franchises like boys collect toy cars adding Isuzu Trucks, Chrysler Jeep, Audi, Volkswagen, Volkswagen Commercial Vehicles and Isuzu Utes to the business.
The more franchises he collected, the more property he needed to house them. The more his business grew, the more the vehicle manufacturers wanted him to spread his locations to the north, south and west of Southport. State-of-the-art dealerships were built in Logan, Gaven, Arundel, Nerang, Robina, Tweed Heads and Lismore.
The number of people working for Mr Frizelle grew from eight at the Mazda dealership to more than 750 spread across his dealerships on the Gold Coast, northern New South Wales and Logan.
In June 2017 James, at the age of 83, sold the retail motor arm of his business to a consortium including his son Brett, but he retained the properties on which the businesses still operate.
This has not slowed down James. His company now manages an extensive property portfolio and is using its earnings to fund the James Frizelle Charitable Foundation.
The James Frizelle Charitable Foundation provides funds through Grant Rounds twice a year to registered charities that focus their attention on the Gold Coast, Tweed Heads, Byron Bay, Lismore and Ballina regions. In its 18 months of operation, the James Frizelle Charitable Foundation provided more than $2 million in funding to more than 50 charities in the region.
James says there are three secrets to his success:
Finance: Learn about finance and understand how borrowing can help you grow
Caring: Make sure you look after your family, your people, your customers and your assets
And finally, hard work. With hard work, anything is possible.