Terry Morris
Morris International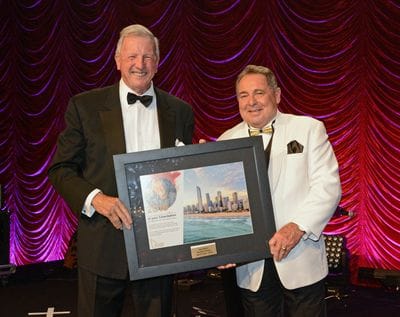 Terry Morris, the founder of Carrara Markets and Sirromet Wines, has been inducted into the Gold Coast Business Hall of Fame.

Mr Morris, who heads up the Ashmore headquartered Morris International, is the 12th person to be inducted in the Hall of Fame, which is run by the Gold Coast Business Excellence Awards.
Past inductees include Sea World founder Keith Williams, Dreamworld founder John Longhurst, Billabong founder Gordon Merchant and bikini pioneer Paula Stafford.

Mr Morris was born in Victoria and owned a successful insurance business in the La Trobe Valley before moving to the Gold Coast in 1976.
Mr Morris started his Queensland operations in Nerang Street, Southport and quickly built up the insurance business. He then successfully ran for election to the Albert Shire Council.
It was while he was at a dinner party, that he heard that Victorians were being slugged more money for cigarettes than Queenslanders. He saw a big business opportunity. He advertised in Victorian papers, offering to sell Queensland cigarettes to Victorians via mail order. The response from Victorian smokers was incredible and it started our hero in a whole new business.
The new business, which is now called Morris International, was a pioneer of database management and marketing. It grew to be a national leader in catalogue sales.
Since its establishment in 1981, Morris International has grown exponentially and has continued to evolve.
As his business grew, Mr Morris invested in numerous Gold Coast properties and businesses. One investment was to buy land at Carrara. Soon after a local identity rented the Carrara property to run a flea market. The flea market failed but Mr Morris invested more money and launched a business called Carrara Markets. More than 35 years later, Carrara Markets is the biggest permanent weekend marketplace in Australia and is a Gold Coast tourism icon.
Another business grew out of a sporting passion. Mr Morris says he was never good at ball sports and that led him to car racing. His love of car racing spread to his son Paul Morris, who became a successful a V8 Supercar driver, and led to Mr Morris owning a racing team.
In partnership with the Longhurst family, who founded Dreamworld, Mr Morris then bought a property in Norwell and built what was to become the Norwell Motorplex and The Performance Driving Centre.
The highest profile business in the Morris portfolio is the multi-award winning Sirromet Wines. When Terry was first dating his now wife. Lurleen, her mother was a wine buyer for a grocery chain. The couple has had an interest in wine ever since.

The Morris family bought its 200-hectare Mount Cotton property in the 1980s as a long-term investment. During one of the couple's wine trips Lurleen told Terry he already owned the perfect place to build his dream winery. And, so in 2000, Sirromet Wines opened its doors. And for those not in the know, Sirromet is T. E Morris spelt backwards.
Today Terry's business employs more than 500 people in a wide range of enterprises. Morris International now includes:
Pronto Direct
The Performance Driving Centre at Norwell
Carrara Markets
GC Wake Park
TEMA Property Services
The GoodTimes Pub Group, which owns eight hotels between the Gold Coast and Dalby, and
Sirromet Wines